Move ahead with the power to do more
CUMMINS ISLe 375

Tubeless Tyres

37% / 54%

Maximum Gradeability

2100 Nm

Maximum Torque

8898 cc

Engine Capacity
Prima 4738.K
The Tata Prima 4738.K is the epitome of power and performance. It comes equipped with the trusted CUMMINS ISLe, a water-cooled, direct-injection, turbocharged, after-cooled diesel engine with a viscous fan. This heavy-duty tipper delivers a maximum power output of 370 HP at 2100 rpm and a peak torque of 1550 Nm.
With the smooth and reliable Eaton 8F + 1 C + 1 R gearbox, gear transitions are seamless, ensuring a comfortable and responsive driving experience. It also has a full-air dual-circuit S-Cam braking system with ABS for precise and dependable braking performance in various road conditions. The suspension system is engineered for superior stability and comfort. The front features a Compensating Linkage Parabolic Spring, ensuring smooth rides and reduced vibrations during your journeys. The rear is equipped with a two-spring balance beam bogie, coupled with semi-elliptic multi-rubber mounted torque rods and a V-Rod, further enhancing load-carrying capacity and minimizing shocks.
Water Cooled, Direct injection, Turbocharged After Cooled Diesel Engine With Viscous Fan
370 HP Maximum Power
Full Air Dual circuit - S Cam Braking System with ABS
Eaton 9F + 1 R Gearbox
This truck offers more savings over the long term with long-lasting aggregates that require little maintenance, making it an ideal choice for mining and RMC applications.
Features designed for

per

formance and profits

Flat Torque Curve
Advantage
Lesser Gear Shift
Benefit
Constant Torque for Wider RPM Range, High Fuel Economy
,
Reliable aggregates e.g, Cummins Engine, ZF Gear Box, Proven and time Tested TATA RA 109 rear Axle
Advantage
World Class Technology
,
Ergonomic World Class Prima Cabin, Driver seat - Mechanical static adjustable bucket seat with Fore aft + recliner + height adjustment with integrated head restraint, tilt and telecsopic steering wheel
Advantage
Lesser Fatigue for Driver
Benefit
more no. of trips Trips
,
Availaibility of Service Parts
Advantage
Ease of Servicability
,
Features such as Engine Exhaust Brake, 2 Stage Air Filter,
Advantage
Value Added Comfort features
Benefit
More trips high profitability
,
Bogie Suspension
Advantage
Higher load carrying capacity
Benefit
Higher Profit & Improved Tyre & Axle life
01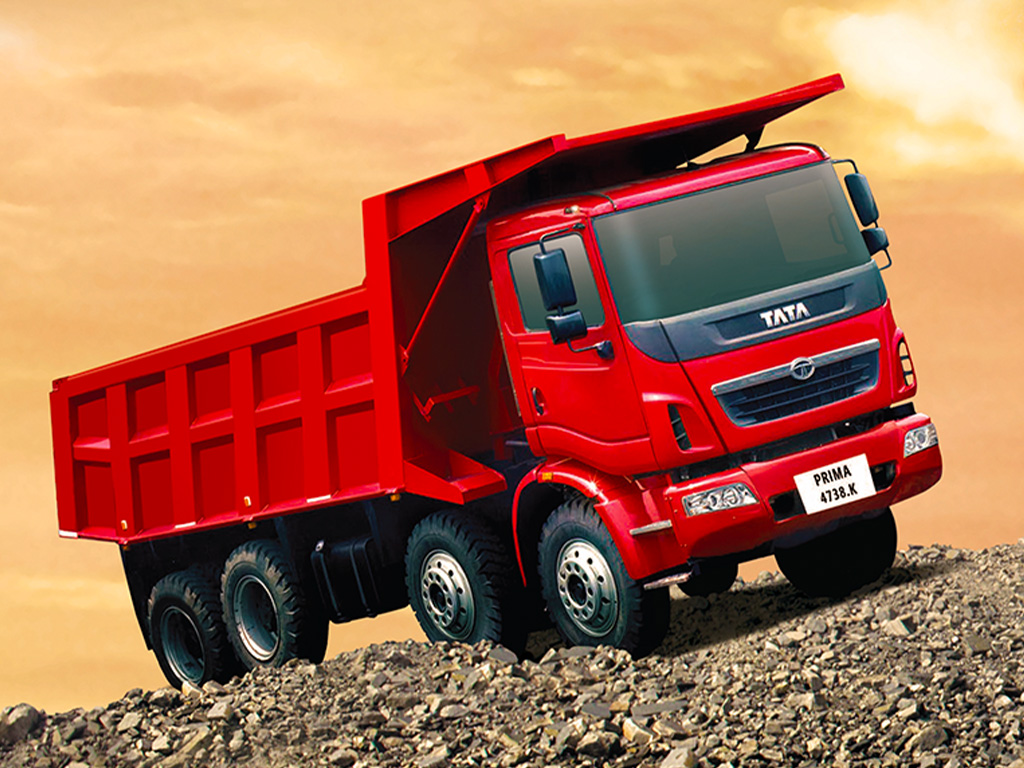 Prima 4738.K
spe

cifications
Engine

CUMMINS ISLe 375- Water cooled, direct injection, turbocharged, after cooled Diesel engine with viscous fan

Engine Capacity

8898 cc

Max Engine Output

370 HP at 2100 rpm

Max Speed

66

Emission

E-III

Torque

1550 Nm at 1200-1400 rpm

Gradeability

49%(1st), 74% (Crawler)

Gear Box

Eaton, 8F + 1 C + 1 R

Clutch

430

Steering System

Hydraulic Power Steering

Brakes

Full Air Dual circuit - S Cam with ABS

Suspension - Front

Compensating linkage Parabolic spring

Suspension - Rear

Two spring balance beam Bogie with semi elliptic multi rubber Mounted Torque Rods & V-rod

Tyre Size

12R24

Length

8488

Width

2590

Height

3232 mm

Wheelbase

5250 mm

Ground Clearance

353 mm

Turning Circle Diameter

11137 mm

GVW

36000 kg

Kerb Weight

11220

Max Permissible FAW

15000

Max Permissible RAW

21000

Fuel Tank Capacity

260 Ltrs

Cabin Ventilation

HVAC

Body Option

19 cum rock 25 cum box/29 cum box
Dealer
loc

ator

Choose your state, select your city and choose your preferred dealer type to find your closest showroom
Mohamed Yousuf Naghi Motors Co
Mohamed Yousuf Naghi Motors Co
MY Naghi Motors
Manahil International
Exit 18
Near Alissa Isuzu showroom
Faisaliya Riyadh
Mohamed Yousuf Naghi Motors Co
Mohamed Yousuf Naghi Motors Co
MY Naghi Motors
Manahil International
Dammam -Industrial Area
Opp. Khodariya – AL Faihaa Street -Dallah
Near- Al Bakhit Equipement
Dahran /Jubail Highway
Mohamed Yousuf Naghi Motors Co
Mohamed Yousuf Naghi Motors Co
MY Naghi Motors
Manahil International
Al Matar Al Qadim,
Buraydah 52367
Mohamed Yousuf Naghi Motors Co
Mohamed Yousuf Naghi Motors Co
42393 Al-Hijra Road,
Al-Hilifa, Medina
Mohamed Yousuf Naghi Motors Co
Mohamed Yousuf Naghi Motors Co
MY Naghi Motors
Manahil International
Khamis – Abha Road
Signal Bahesh – Khamis
Mohamed Yousuf Naghi Motors Co
Mohamed Yousuf Naghi Motors Co
MY Naghi Motors
Manahil International
Madinah Munawara road
Mohamed Yousuf Naghi
Near ISUZU Comp
Mohamed Yousuf Naghi Motors Co
Mohamed Yousuf Naghi Motors Co
Mohamed Yousuf Naghi Motors
Al Harmain road, Al Rayan Dist.
Near Rahmania petrol station
Jeddah, Saudi Arabia