Move ahead with the power to do more
235/70 R16

Tubeless Tyres

Euro IV

Emission Standard Compliant

320 Nm

Maximum Torque

2179 cc

Engine Capacity
XENON X2 SC 4x4
Add the versatile and reliable Tata Motors Xenon X2 SC pickup truck to your fleet today. It features the advanced TATA 2.2L DICOR Euro IV direct injection common rail turbocharged intercooled diesel engine and delivers a maximum power output of 103 kW at 4000 rpm and a torque of 320 Nm. This enables faster deliveries and superior profits through exceptional power and efficiency.
Water Cooled Direct Injection Common Rail Turbocharged Intercooled Diesel Engine
103 kW Maximum Power
Elliptical Springs Suspension System
Vacuum Assisted Over Hydraulic Steering Wheel With H Spilt
The braking system is designed for optimal safety and control, comprising Ventilated Disc Brakes in the front and Drum brakes with an auto adjuster in the rear. The suspension system delivers a smooth and comfortable ride with a double wishbone-type suspension in the front and sturdy Parabolic Leaf Springs at the rear. This combination provides excellent stability and cushioning, making every journey a comfortable one.
Whether you're transporting goods, going on outdoor adventures, or simply cruising through the city, the Xenon X2 is your perfect companion. It combines power, safety, and reliability to meet the diverse needs of modern lifestyles.
Features designed for

per

formance and profits

01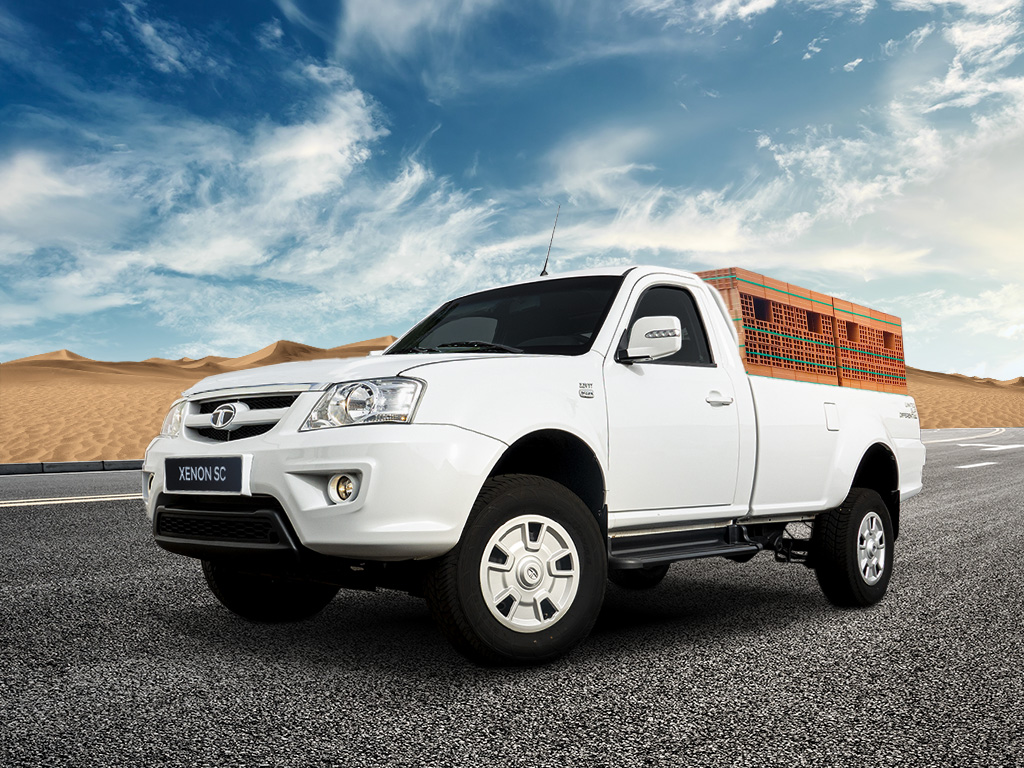 XENON X2 SC 4x4
spe

cifications
Engine

2179 cc

Engine Type

TATA 2.2L DICOR

Max Engine Output

110 kW(150 Ps) at 4000 rpm

No of Cylinders

4 Inline

Max Speed

160 kmph

Torque

320 Nm at 1700 - 2700 rpm

Gradeability

80%

Transmission Model

5 Speed Manual Transmission

Clutch Lining Outside Diameter

260 mm

Brake - Front

Ventilated Disc Brakes with Pot Caliper

Brake - Rear

Drum

Suspension - Front

Double wishbone type with coil Spring over shock absorber.

Suspension - Rear

Parabolic Leaf Springs

Antiroll Bar

At front

Tyre Size

235/70 R16 Tubeless Tyres

No of Wheels

Front - 2, Rear - 2, Spare - 1

Frame

Hydroform Chassis

Length

5312 mm

Width

1860 mm

Wheelbase

3170mm

Ground Clearance

210 mm

GVW

3100 kg

Kerb Weight

1985 kg

Payload

1015 Kg

Fuel Tank Capacity

70 litres
Dealer
loc

ator

Choose your state, select your city and choose your preferred dealer type to find your closest showroom
Mohamed Yousuf Naghi Motors Co
Mohamed Yousuf Naghi Motors Co
MY Naghi Motors
Manahil International
Exit 18
Near Alissa Isuzu showroom
Faisaliya Riyadh
Mohamed Yousuf Naghi Motors Co
Mohamed Yousuf Naghi Motors Co
MY Naghi Motors
Manahil International
Dammam -Industrial Area
Opp. Khodariya – AL Faihaa Street -Dallah
Near- Al Bakhit Equipement
Dahran /Jubail Highway
Mohamed Yousuf Naghi Motors Co
Mohamed Yousuf Naghi Motors Co
MY Naghi Motors
Manahil International
Al Matar Al Qadim,
Buraydah 52367
Mohamed Yousuf Naghi Motors Co
Mohamed Yousuf Naghi Motors Co
42393 Al-Hijra Road,
Al-Hilifa, Medina
Mohamed Yousuf Naghi Motors Co
Mohamed Yousuf Naghi Motors Co
MY Naghi Motors
Manahil International
Khamis – Abha Road
Signal Bahesh – Khamis
Mohamed Yousuf Naghi Motors Co
Mohamed Yousuf Naghi Motors Co
MY Naghi Motors
Manahil International
Madinah Munawara road
Mohamed Yousuf Naghi
Near ISUZU Comp
Mohamed Yousuf Naghi Motors Co
Mohamed Yousuf Naghi Motors Co
Mohamed Yousuf Naghi Motors
Al Harmain road, Al Rayan Dist.
Near Rahmania petrol station
Jeddah, Saudi Arabia