Move ahead with the power to do more
Euro IV

Emission Compliant Standard

Engine

Capacity of 3300 cc

Torque

Max Torque of 390 Nm

Gradeability

45%
ULTRA T.6
Equipped with a robust compression ignition engine, the Ultra T.6 delivers unmatched performance and reliability every single time. With a commanding maximum power output of 125 PS at 2600 rpm and an impressive torque of 390 Nm, this light pickup truck is engineered to conquer every road and challenge.
With the Tata G550 Synchromesh 6F + 1R gearbox, experience seamless gear transitions. The advanced braking system, featuring dual-circuit full-air S-cam brakes along with ABS and ESP, offers unparalleled stopping power and safety, even in the most challenging terrains. The fusion of parabolic and semi-elliptical leaf springs ensures stability and shock absorption, allowing you to traverse various landscapes with ease.
3.3L NG CR E-IV Engine 
Maximum Power of 125 Ps
Rugged Gearbox Tata G550 6F+1R with Cable Shift Mechanism
Dual Circuit Full Air S-Cam Brake System With ABS and ESP
Whether you're completing deliveries on busy urban streets or driving on highways, the Ultra T.6's performance stands as a testament to its efficiency, power, and reliability. 
Features designed for

per

formance and profits

3.3L NG Common Rail TCIC Euro-IV
Advantage
1. Most Efficient Engine with 3300 cc capacity
2. Higher Mileage
3. High 155Ps Power
4. Common Rail FIP with Advanced Engine Management System
5. Solenoid injectors for precise fuel delivery, superior reliability
Benefit
Move Savings due to lesser fuel consumption, Higher speed resulting in better turn around capacity
,
Torque of 390 Nm @ 1100-2200 rpm
Advantage
1. Best flat torque range from 1100- 2200 rpm
Benefit
Ability to pull more load easily at the low rpm ranges, Relatively less gear shifting, Better Acceleration
,
Dual circuit full Air S-cam Brakes + ABS + ESP
Advantage
1. Efficient and effective braking
2. Better Braking Distance
3. Decreased Response Time
4. Lesser Maintenance
Benefit
Effective and Safer braking compared to Hydraulic and air over hydraulic brakes, critical in high speed operations.
,
Tata G550 (6F+1R) Synchromesh Gear box with Cable shift mechanism
Advantage
1. Low Vibration
2. Improved mileage
3. Ease of Operations across terrains
Benefit
Reduced gear shifting efforts, better life of gearbox
,
Parabolic and semi elliptical leaf spring
Advantage
Lower maintainance cost because of less greasing,
Benefit
Better load carrying capacity and higher driving comfort due to lower vibrations
01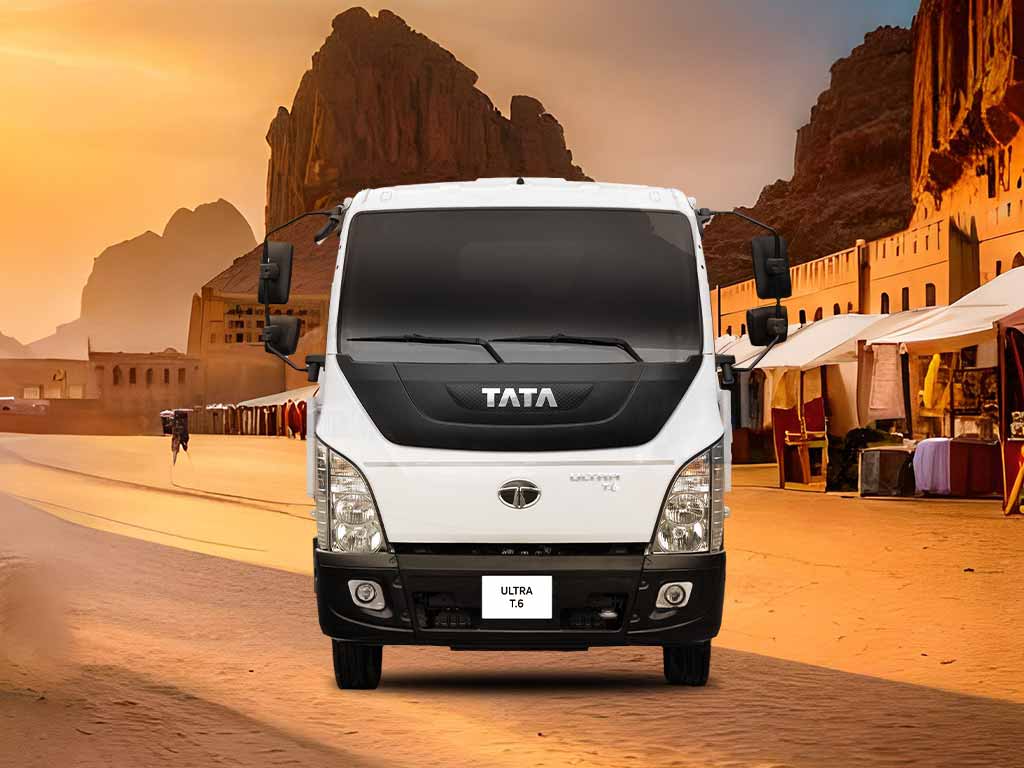 ULTRA T.6
spe

cifications
Engine

NG3.3L CR EIV

Engine Type

Compression ignition, EURO-4

Body Type

Cab-Chassis

Engine Capacity

3300 cc

Max Engine Output

125 Ps @ 2600 rpm

No of Cylinders

4 INLINE

Cylinders / Displacement

4 cylinder, 3300 cc

Max Speed

105kmph

Emission

EuroIV

Torque

390 Nm at 1100-2200 rpm

Gradeability

45%

Grade Restartability

40%

Transmission Model

Manual

No of Gears

6 Forward +1 Reverse

Gear Box

Tata G550 Synchromesh

FGR

6.9

Clutch

Single plate dry friction type, booster assisted

Clutch Lining Outside Diameter

310 mm

Steering System

Integrated Hydraulic Power

Brake - Front

325 X 140 S – Cam Drum air brake

Brake - Rear

325 X 140 S – Cam Drum air brake

Brake Drum Diameter

325 dia

Brakes

Dual circuit full Air S-cam Brakes + ABS + ESP

Suspension

Parabolic and semi elliptical leaf spring

Suspension - Front

Parabolic Springs

Suspension - Rear

Semi elliptical leaf spring with auxilary springs

Antiroll Bar

YES

No of Tyres

Front: 2, Rear:4 and Spare: 1

Tyre Size

7.5 R16 16PR

Size & Ply rating

7.5 R16 16PR

Axle - Front

Heavy duty forged I beam

Axle - Rear

Tata RA-1055

Axle Final ratio

4.125

Wheel Rims

6.00G X 16

Frame

Ladder Type Straight Frame

Frame Depth

186

Frame Width

820

Wheelbase

2950

Ground Clearance

191

Overall Length

5311

Overall Width

2050

Over Hang - Front

1180

Over Hang - Rear

1091

Turning Circle Diameter

6.5 mm

Turning Clearance Circle Diameter

14.1

Track Front

1565

Track Rear

1620

Angle of Departure

14 deg

GVW

6450

Kerb Weight

2800

Max Permissible FAW

2800

Max Permissible RAW

3650

Payload

3650

Fuel Tank Capacity

90

Cabin

Ultra Narrow 1905mm Width

Cabin Ventilation

HVAC

Battery

2 x 12V 100 AH

Vehicle Drive

LHD

Alternator

80 Amps

Seats

Driver : BUCKET TYPE + BENCH SEAT FOR 2 CO-PASSENGERS.
Dealer
loc

ator

Choose your state, select your city and choose your preferred dealer type to find your closest showroom
Mohamed Yousuf Naghi Motors Co
Mohamed Yousuf Naghi Motors Co
MY Naghi Motors
Manahil International
Exit 18
Near Alissa Isuzu showroom
Faisaliya Riyadh
Mohamed Yousuf Naghi Motors Co
Mohamed Yousuf Naghi Motors Co
MY Naghi Motors
Manahil International
Dammam -Industrial Area
Opp. Khodariya – AL Faihaa Street -Dallah
Near- Al Bakhit Equipement
Dahran /Jubail Highway
Mohamed Yousuf Naghi Motors Co
Mohamed Yousuf Naghi Motors Co
MY Naghi Motors
Manahil International
Al Matar Al Qadim,
Buraydah 52367
Mohamed Yousuf Naghi Motors Co
Mohamed Yousuf Naghi Motors Co
42393 Al-Hijra Road,
Al-Hilifa, Medina
Mohamed Yousuf Naghi Motors Co
Mohamed Yousuf Naghi Motors Co
MY Naghi Motors
Manahil International
Khamis – Abha Road
Signal Bahesh – Khamis
Mohamed Yousuf Naghi Motors Co
Mohamed Yousuf Naghi Motors Co
MY Naghi Motors
Manahil International
Madinah Munawara road
Mohamed Yousuf Naghi
Near ISUZU Comp
Mohamed Yousuf Naghi Motors Co
Mohamed Yousuf Naghi Motors Co
Mohamed Yousuf Naghi Motors
Al Harmain road, Al Rayan Dist.
Near Rahmania petrol station
Jeddah, Saudi Arabia