Move ahead with the power to do more
Euro II

Emission Compliant Standard

5675 cc

Engine Capacity

416 Nm

Max Torque

27%

Gradeability
LPT613 BOX TIPPER
Experience a new dimension in tipper vehicles with the LPT613, a light commercial tipper truck designed to elevate your hauling capabilities. Equipped with a water-cooled direct injection diesel engine with an intercooler, the LPT613 delivers a maximum power output of 95 kW at 2400 rpm and a torque of 416 Nm, ensuring every load is handled with efficiency and precision.
Engineered for optimal performance, the LPT613 tipper features the advanced Tata GBS 40 Synchromesh 6F + 1R gearbox, promising seamless gear transitions and empowering you to tackle diverse terrains with ease. Safety is paramount, and the vehicle is equipped with dual-circuit full-air S-cam brakes, providing unparalleled stopping power and enhancing your control during crucial moments. With a semi-elliptical multi-leaf spring suspension at the front and rear, augmented by auxiliary springs at the rear, the LPT613 guarantees a smooth and stable ride, reducing impact on difficult terrain.
CUMMINS B5.9 Engine 
95 kW Maximum Power 
Tata GBS 40 Synchromesh Gearbox 
Dual Circuit Full Air S-Cam Brake System
Conquer inclines and challenging roads confidently, thanks to the Tata LPT 613 tipper's remarkable gradeability of 36%. The tipper is engineered to handle various terrains while maintaining optimal performance, making it the ideal solution for all your light commercial tipper needs.
 
Features designed for

per

formance and profits

TATA 697 TCIC, Water-cooled direct injection diesel engine with inter-cooler
Advantage
1. Low Maintenance cost
2.Optimised Fuel Economy
Benefit
Long life of Engine, Higher Power performance and better turn around capacity
,
Full air S- cam brakes
Advantage
Low Maintainance and reliable
,
Semi elliptical multi leaf spring at front and rear with auxilary springs at rear only
Advantage
Low Maintainance cost
Benefit
Better driving comfort
,
GBS 40 synchromesh
Advantage
Rugged and Reliable
Benefit
Reduced gear shifting efforts
,
Gradeability
Advantage
High Gradeability
Benefit
Ease of carrying loads on gradients
01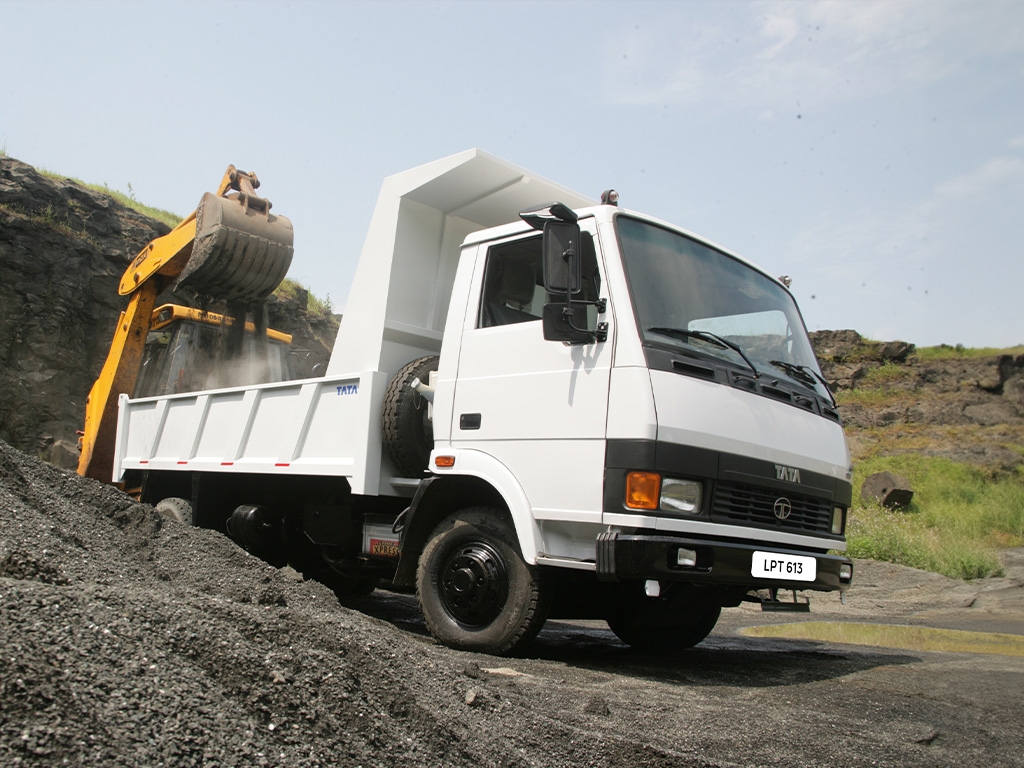 LPT613 BOX TIPPER
spe

cifications
Engine

CUMMINS B5.9-180 20

Engine Type

Water-cooled direct injection diesel engine with inter-cooler 

Body Type

3.5 CuM Tipper

Engine Capacity

5675cc

Max Engine Output

95 Kw @ 2400 rpm

Cylinders / Displacement

6 cylinder, 5675 cc

Max Speed

112 kmph

Emission

Euro II

Torque

416 Nm @ 1400-1700 rpm

Gradeability

36%

Transmission Model

Manual

No of Gears

5 Forward +1 Reverse

Gear Box

GBS 40 synchromesh

FGR

6.34

Clutch

Single plate dry friction type, booster assisted

Clutch Lining Outside Diameter

310 mm

Steering System

Integrated Hydraulic Power

Brake - Front

Drum

Brake - Rear

Drum

Brake Drum Diameter

325 mm

Brakes

Dual circuit full Air S-cam Brakes

Suspension

Semi elliptical multi leaf spring at front and rear with auxilary springs at rear only

Suspension - Front

Semi elliptical leaf spring

Suspension - Rear

Semi elliptical leaf spring with auxilary springs

Antiroll Bar

YES

No of Tyres

Front: 2, Rear:4 and Spare: 1

Tyre Size

7.50R16 14PR Radial ply

Size & Ply rating

7.50R16 14PR Radial ply

Axle - Front

Heavy duty forged I beam

Axle - Rear

Single reduction, hypoid gear

Axle Final ratio

3.111:1

Wheel Rims

6.00 G x 16 SDC

Frame

Ladder type frame with rivetted/bolted cross members Side members are of channel section

Frame Depth

200

Frame Width

60

Length

5914

Width

2116

Height

2341

Wheelbase

3400

Track Front

1650

Track Rear

1577

GVW

7500

Fuel Tank Capacity

90

Cabin

LPT Face

Cabin Ventilation

N.A

Battery

12 V, 180 Ah

Vehicle Drive

LHD

Alternator

65 Amps

Seats

D+2
Dealer
loc

ator

Choose your state, select your city and choose your preferred dealer type to find your closest showroom
Mohamed Yousuf Naghi Motors Co
Mohamed Yousuf Naghi Motors Co
MY Naghi Motors
Manahil International
Exit 18
Near Alissa Isuzu showroom
Faisaliya Riyadh
Mohamed Yousuf Naghi Motors Co
Mohamed Yousuf Naghi Motors Co
MY Naghi Motors
Manahil International
Dammam -Industrial Area
Opp. Khodariya – AL Faihaa Street -Dallah
Near- Al Bakhit Equipement
Dahran /Jubail Highway
Mohamed Yousuf Naghi Motors Co
Mohamed Yousuf Naghi Motors Co
MY Naghi Motors
Manahil International
Al Matar Al Qadim,
Buraydah 52367
Mohamed Yousuf Naghi Motors Co
Mohamed Yousuf Naghi Motors Co
42393 Al-Hijra Road,
Al-Hilifa, Medina
Mohamed Yousuf Naghi Motors Co
Mohamed Yousuf Naghi Motors Co
MY Naghi Motors
Manahil International
Khamis – Abha Road
Signal Bahesh – Khamis
Mohamed Yousuf Naghi Motors Co
Mohamed Yousuf Naghi Motors Co
MY Naghi Motors
Manahil International
Madinah Munawara road
Mohamed Yousuf Naghi
Near ISUZU Comp
Mohamed Yousuf Naghi Motors Co
Mohamed Yousuf Naghi Motors Co
Mohamed Yousuf Naghi Motors
Al Harmain road, Al Rayan Dist.
Near Rahmania petrol station
Jeddah, Saudi Arabia